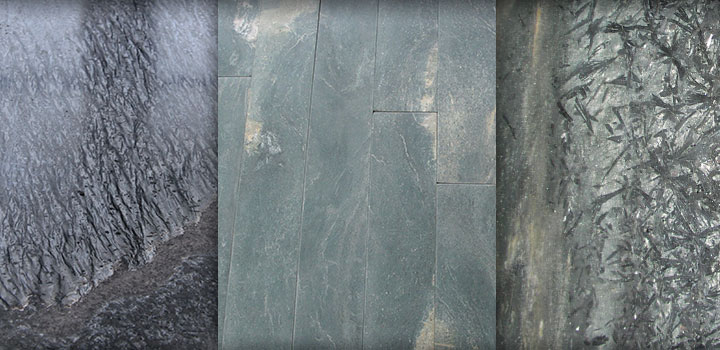 Don't take Schist for Granite!
Ashfield Schist
The most versatile of the stones we quarry is a mica garnet schist (Unit #3 Goshen Formation), a naturally layered stone having been folded up from ancient seabed and metamorphosed in the slow crush of continents some 400 million years ago. When split or "cleft" into it's natural layers it can be used for all kinds of Landscape applications such as walls, patios and door steps. The stone's surface has a pleasing texture and a silver, blue-gray color with occasional bronzing. This durable stone, unique to New England, has been used traditionally for over 300 years as a building stone. It is the oldest gravestones, hearths, well caps, foundation facing, door steps and flooring in the region.
When Ashfield Stone is sawn with the huge diamond tipped circular saw, there are two distinct layers that can be used in many dimensional applications such as counter tops and flooring. Quicksilver is a lighter, Quartzite layer with marbled garnet patterns, trace silver blazes and occasional quartz veining. Galaxy is a darker Schist layer that mirrors the woven surface texture in a holographic pattern. Expect blends of both patterns.
Crowsfoot Schist
The other stone we quarry is Crowsfoot, a variegated schist that has been designated by the Marble Institute of America as one of this continent's rare, exotic stones. This 600 million year old stone originally flowed out of ancient volcanos, cooled slowly, grew the wonderful crystal inclusions and than was pressed and folded in the crush of continents. It has a field of opalescent teal green or sea gray with varying sized bundles of black hornblende crystals (crowsfeet), feldspar, quartz ribbons and occasional cherry wood colored garnets. Every block we quarry is unique and therefore each variation is a limited edition. Each time we quarry a new variation we give it a name. To date, we have about 10 named variations of Crowsfoot. This stone is used for fine interior applications; kitchen countertops, vanities, floor tile and planking, fireplace surrounds and wall panels. Crowsfoot comes in a satin or an understated polished finish.
Pond Ice
Pond Ice Schist is a variation of Crowsfoot Schist, but the hornblende crystals (crow's feet) are microscopic. The field is an organic green…a color that you see in forests, but doesn't have a name and includes ribbons of translucent cream and white.
Applications include: counter tops, vanities, fireplace surrounds and flooring.
Pond Ice takes a high polish, a wonderful, soothing satin finish or an antique, brushed finish.